The weather at Siusi allo Sciliar
Bright views
"A place, a hotel, a dream!" The Ritterhof in Seis am Schlern / Siusi allo Sciliar promises pure holiday indulgence! Seis am Schlern / Siusi allo Sciliar and the Seiser Alm / Alpe di Siusi are two sun-kissed spots in South Tyrol a region that record 300 days of sunshine a year, believe it or not. The weather here in Siusi is simply incredible, a mild spring, pleasantly warm summer, refreshing clear autumn and snowy white winter. Watch our weather forecast and see what the weather will be like. Even if the sun will be covered by clouds, we assure you some especially bright days in Siusi allo Scillar!
Vorhersage für heute, 16.01.2022
Sunny weather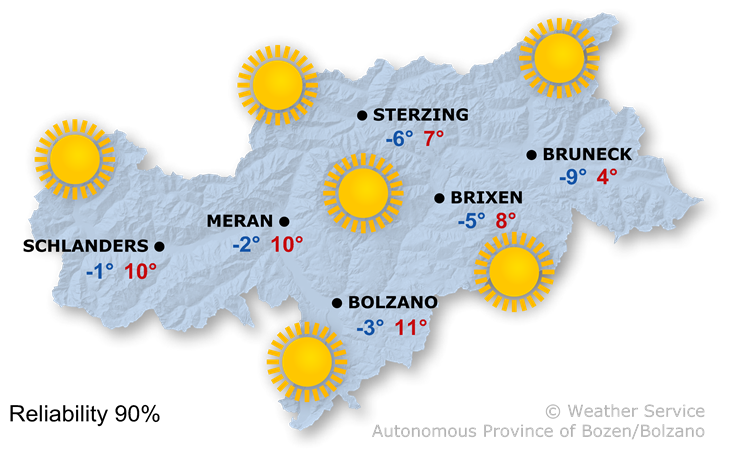 Allgemeine Wetterlage
High pressure conditions.
The weather today
Sunny weather with clear sky.
Prevision
Mostly sunny weather
18.01.2022
19.01.2022
20.01.2022
21.01.2022
80%
80%
70%
70%









0°/9°

-10°/0°

0°/9°

-12°/0°

2°/11°

-10°/0°

-1°/8°

-10°/0°
*